As Seen 2011 Notable artworks by Chinese Artists by Karen Smith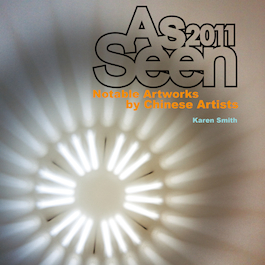 Launch on April 18th in Beijing As seen 2011 is Karen Smith's latest book where she attempt to record some of the notable artworks by Chinese artists from 2011, among them there are: MadeIn's works, the Museum of Unknown, Liu Wei's project Merely a Mistake, Huge Character by Tang Maohong, Zhang Ding and Sun Xun as well as Zhan Wang's My Personal Universe.
In an interview for Sunday Mroning Post Karen Smith says that 2011 wasn't a particularly strong year in Chinese art; "The overwhelming impression of art from last year, was a lot of it being insipid or diluted.[…]the pieces that are in the book quite easily stood out from above the rest." Then she added " the problem with the Chinese art world, is it's in the process of forming and developing. It's been straight from the studio to the auction house for a while, and the galleries have been trying to work out how that slots in, how these things move forward?" Original article in Sunday Morning Post Don't mention the wall by Clare Morin.
For more information I invite you to refer to the Q&A with Karen Smith by Chris Moore on Randian