"Zizhiqu Autonomous Regions" at Guangzhou Times Museum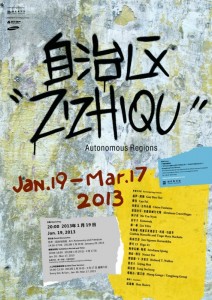 After the festival "Plug In" which aims to break the boundary between museum space and community public space, the Guangdong Times Museum is now presenting an exhibition entitled "自治区 Autonomous regions". The curating team invited 16 Chinese and foreign artists and creative collective to express the idea of autonomy through various artistic forms. The project demonstrates the possibility and reality of the creation of a culturally and socially significant autonomous zone in a city where urbanization and globalization are unfolding at an unprecedented pace.
Individual artists such as, Kimsooja (Korea), Lin Yilin (China), Jun Nguyen-Hatsushiba (Japan), Sriwhana Spong (New Zealand), Nasan Tur (Germany) and Richard T. Walker (UK) often use performative bodies as a "tool" to deal with the question of inhabiting space, both private and public, particularly social and political, seeking to intervene and occupy various life spaces from the home to the street, from the city to nature. Guy Ben-Ner (Israel) borrows the plot of Daniel Defoe's "Robinson Crusoe" and reinterprets it in his kitchen. The fusion of fantasy and reality sympathizes with the dilemma of "a family man's wish to be alone." Cao Fei (China) takes advantage of new techniques of image production and multimedia facilities to produce projects and proposals of new social structures emphasizing social and political autonomy. Cinthia Marcelle and Tiago Mata Machato (Brazil), and Claire Fontaine use art as an action to develop a strategy to denounce the brutality of the Western economic, social and cultural reality. As avant-gardes of social experiments in the process of envisioning and proposing autonomous zones, artists not only represent the most ambitious, free and dynamic part of the collective efforts of the production of new communities or the new multitude. Along with other intellectuals, social activists,and marginalized groups, artists, such as Rigo 23 (Portugal), Zheng Guogu (Yangjiang Group) (China), Ho Tzu Nyen (Singapore), Abraham Cruzvillegas (Mexico), Yang Jiechang (China), and Xijing Man (China) embody the most active, sensitive and efficient force of critique. Their work makes references to some of the most interesting and efficient social projects of creating self-organizing communities, like in many "marginalized" communities such as urban slums, immigration quarters and isolated rural areas, where grassroots, "barefoot" and mutually beneficial forms of architecture, urbanism and community buildings are practiced and micro-credits, informal markets and "alternative" economies are introduced to become the actual mainstream mode of the economic and social system.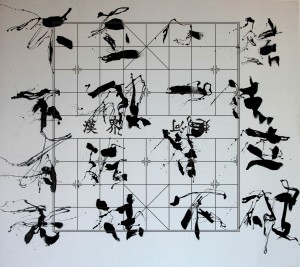 Photo: Chinese Chess by Zheng Guogu
Venue: Guangzhou Times Museum
Date: until March 17th
Participating Artists: Guy Ben-Ner, Cao Fei, Claire Fontaine, Abraham Cruzvillegas, Ho Tzu Nyen, Kimsooja, Lin Yilin, Cinthia Marcelle and Tiago Mata Machato, Jun Nguyen-Hatsushiba, Rigo 23, Sriwhana Spong, Nasan Tur, Richard T. Walker, Xijing Men, Yang Jiechang, Zheng Guogu/Yangjiang Group