Beijing Paper Tiger at Hong Kong Arts Festival
If the only thing standing between Beijing and Hong Kong is a lone iron barrier…This is the starting point for Iron Horse, a conceptually driven new work, jointly devised by Beijing's avant-garde director Tian Gebing (Director of Beijing Paper Tiger Theater studio) and cutting-edge Hong Kong director Vee Leong.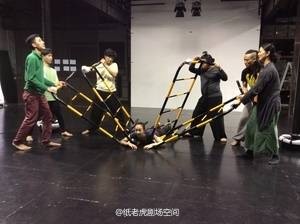 Rehearsal photo @Paper Tiger
A thought-provoking play in which action unfolds to live and recorded music, Iron Horse promises to define, cross and break cultural and mental barriers, both real and imaginary ones.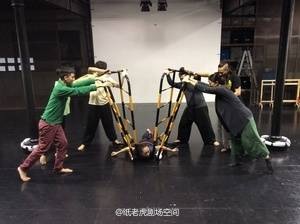 Rehearsal photo @Paper Tiger
Iron Horse is playing on March 22nd and 23rd at HK Cultural Center Studio Theater. To get more information or book your ticket please visit Hong Kong Arts Festival website.
Meet-the-Artist – Deconstructing the Iron Horse
23 Mar 2014 (Post-matinee-performance)
An open communication platform for reflection on Iron Horse, and discussion on the cultural diversity between Mainland and Hong Kong with Tian Gebing and Vee Leong.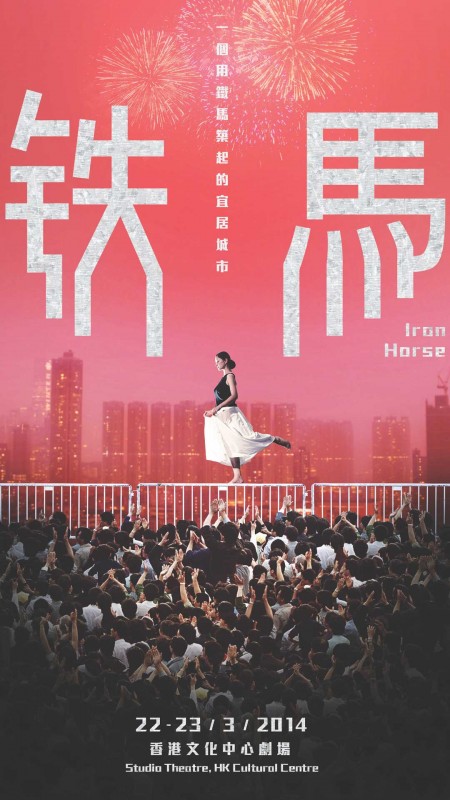 Conceived by
Tian Gebing (Director)
Vee Leong (Dramaturg)
Performed by
(China) Wang Yanan, Gong Zhonghui
(HK) Chan Tze-Sum, Au Chun-Shing, Kwok Ka-Yuen, Yuenjie Maru
Lighting Designer
Mousey Tse
Music & Sound Designer, Live musician and performer
Wong Hin-Yan
Production Manager
Chan Shu Pui CHAN SHU PUI
Commissioned and Produced by the Hong Kong Arts Festival
Beijing-based Paper Tiger Theater Studio was founded in 2003 and is one of the most exciting groups in China's alternative arts scene. Since 2003, Beijing Paper Tiger Studio has been performing internationally at festivals such as the Hong Kong Arts Festival, the Singapore Arts Festival, the Zurich International Theater Festival and in various alternative venues such as the Tokyo Heiner Muller Theater, the Antwerp Monty Theater… Director Tian Gebing draws his inspiration from the reality of daily life, using it as food for thought for his creations. Each of his works endeavors to push back the limits of stage performing a step further, aiming at liberating theatre practice.