Beijing Paper Tiger Theater Studio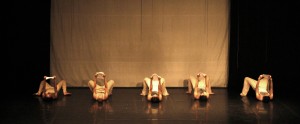 Beijing Paper Tiger Theater Studio is an independent Theatre company. Director Tian Gebing works in collaboration with both professional and non-professional comedians. Tiger Paper Theatre is one of the representative companies of independent Theater in China nowadays. Tian Gebing draws his inspiration from the reality of daily life, using it as food for thought for his creations. Each of his works endeavors to push back the limits of stage performing a step further, aiming at liberating theatre practice. His works question the definition of performance, roles, actors and characters.
Since 2003, Beijing Paper Tiger Studio has been performing internationally at festivals such as the Hong Kong Arts Festival, the Singapore Arts Festival, the Zurich International Theater Festival and in various alternative venues such as the Tokyo Heiner Muller Theater, the Antwerp Monty Theater…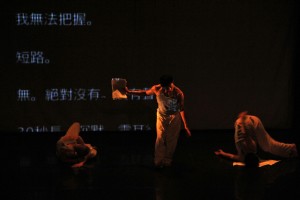 READING
(Here the word read means declaim, read aloud)
The last creation by Paper Tiger Studio,
«Reading» explores the limits of performing arts mixing dance, corporal expression and reading. Reading or even more declamation of texts extracts such as a birth certificate, a list of different types of crimes found in a law article, the show's own review, a medical guide to pregnant women…
Taken as original constraint, the text leads the 5 dancers into transcending their words by movements and playing. A show full of emotions strength and humor. The direction is a challenge, calling upon a complex set of arrangements including rain pouring on stage… Another element challenging the bodies' gravity!
At the beginning, I couldn't find any text to be declaimed, in fact from my own experience all the words were an expression of body fighting and struggling. As soon as I realized that, I felt instantly more relaxed. Then I found texts about linguistics, the definition of aesthetics, art critics, social analysis and narrative and argumentation papers…actually all kinds of texts that are not written to be declaimed. During the period of creation, I came back step-by-step to the idea that Declaiming constraints the experience of our memories and bodies. From this point, bodies and words create a relationship like a hopeless gamble, where they seem to have nothing to do with each other, like strangers suddenly tied together. Despite the fact that Reading is a non-narrative performance, I assume that it should give to the audience quite a sensational feeling. Is it because I wanted to make the audience witness the death of language? Or to witness a scene where language and body raped each other?
____ Tian Gebing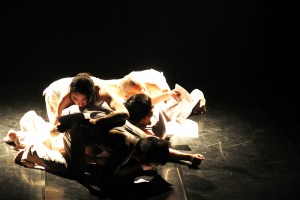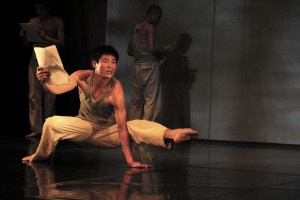 Beijing Paper Tiger Theater Studio welcome all year long short-term artist residency for performing artists in their studio located next to Dashanzi in Beijing.
Address: Tuoyuan Art District, Tuofangying Jia No.1, Chaoyang District, Beijing, P.R.China
Adress in Chinese for taxi driver 朝阳区驼房营路甲一号驼院艺术区内 纸老虎剧场空间(503路驼房营站下即到)
方向:机场高速至将台路出口,并沿将台路直行,过酒仙桥路口后的下个路口即驼房营路,右转向南,过一座桥,在503公车驼房营站右手边,有一门洞,即驼房营路甲一号,驼园艺术区。进入艺术区,右手边最尽端为纸老虎剧场。
How to get there: From downtown, take the ariport highway or jinshun lu, take the Dashanzi exit, then drive along jiuxianqiao lu, turn left at the cross road with jiangtailu, keep going on Jiangtailu then turn right (south) at Tuofang ying lu's crossroad, soon after crossing the bridge, there is a compound's entrance on the right side of the road called tuo fang ying art district. Here you are, Paper Tiger Theater Studio is at the back of the courtyard on the righ side.