Hong Kong Artist Leelee Chan Won the 2020 BMW Art Journey
Leelee Chan Won the Hong Kong 2020 BMW Art Journey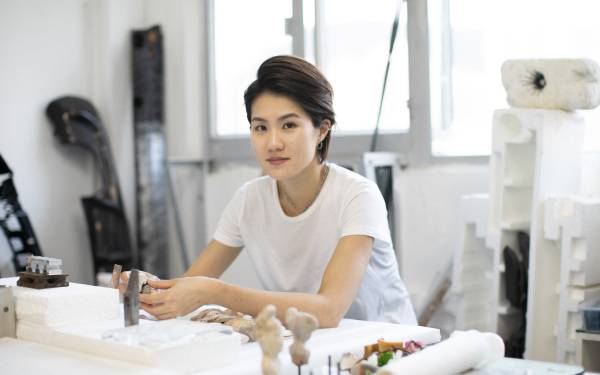 Leelee Chan, BMW Art Journey winner, represented by Capsule, Shanghai. © Leelee Chan
During her BMW Art Journey, the artist will visit artisan families that practice ancient craftsmanship techniques using copper, silver and marble, among other materials, some of which play a role in the artist's own sculptural practice. Along her journey, she will engage in dialogues with scientists and experts to understand how natural materials may be substituted by synthetic materials in the future.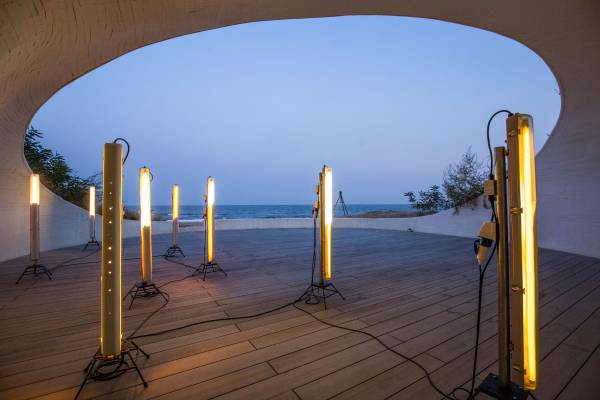 Leelee Chan, "Sunset Capsule", site-specific sculptural installation, construction: lights, metal stands, crystal pieces from a scavenged chandelier, concrete, fiberglass, metal hardware, gel filters. Installation dimensions variable, each light ranges from 146 x 38 x 38 cm to 150 x 38 x 38 cm, 146 x 38 x 38 cm, 150 x 38 x 38 cm, 2019. Photo: UCCA Dune. © Leelee Chan and Capsule Shanghai
Leelee Chan's  sculptures reflect her experience with the extreme urbanisation in Hong Kong and are almost always comprised of dumpster detritus household ephemera, and mundane objects from her daily life not generally considered memorable or worth preserving.
Leelee Chan's BMW Art Journey project gives expression to the evolving relationship between people and materials, and touches on contemporary debates surrounding ecological and cultural sustainability.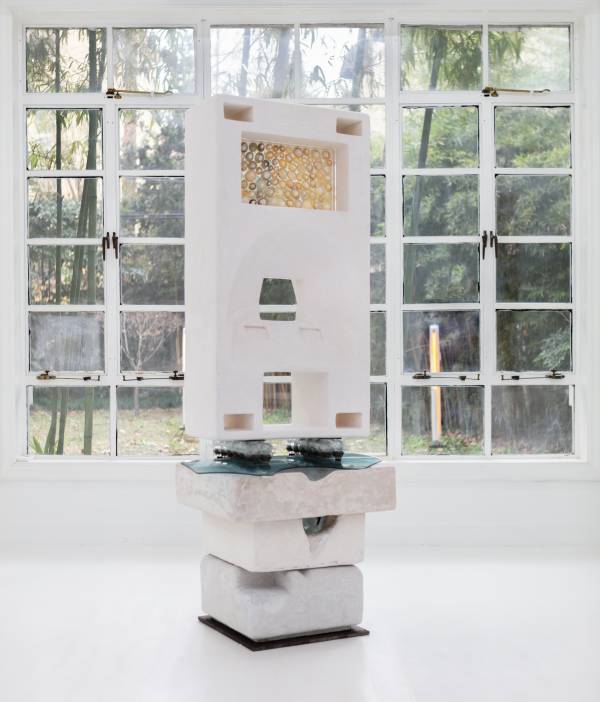 Leelee Chan, "Protector", found materials including car windshield, seashells, a bag of chandelier crystal balls, polystyrene packagings, mother of pearl tiles, egg packagings, aqua-resin, resin, fiberglass, concrete, wood, metal hardware, pigment, 179 x 77.5 x 54 cm, 2018. © Leelee Chan and Capsule Shanghai
Leelee Chan was born in 1984 in Hong Kong. She received her MFA in painting from the Rhode Island School of Design (RISD) in 2009 and her BFA from the School of Art Institute of Chicago in 2006. She currently lives and works in Hong Kong. Her work was exhibited internationally including Tai Kwun Contemporary (Hong Kong, China), Ullens Center for Contemporary Arts Dunes (Qinhuangdao, China), Capsule Shanghai (Shanghai, China), Downs and Ross (New York, USA), Blindspot Gallery (Hong Kong, China), Mine Project (Hong Kong, China), Neptune (Hong Kong, China), Artemis Project Space (York, UK), The Dorado Project (New Jersey, USA), Flux Factory (New York, USA), Parallel Art Space (New York, USA), Sol Koffler Gallery (Providence, USA).
For more information about the artist, I invite you to visit Capsule Shanghai's website.
Leelee Chan, "Navel", scavenged polystyrene packaging and cosmetic container, found seashell, jesmonite, fiberglass, resin, pigment, epoxy putty, 151 x 30 x 30 cm, 2018. © Leelee Chan and Capsule Shanghai