Platform China opening in Hong Kong with " HALLELUJAH" by Jia Aili
Platform China is opening in Hong Kong Chai Wan industrial city same day than ARTHK, with the project "Hallelujah"by Chinese artist Jia Aili. This project which combines painting and installation has been creating for this occasion.
Inaugurating Platform China in Hong Kong, Jia Aili's work is questioning: "belief". It also highlights the new direction of the gallery, which aims to focus on innovative formats works as well as reflection on alternative art practice.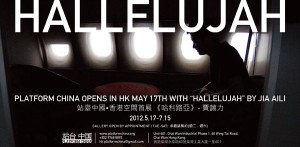 Opening: May 17th
Exhibition time: May 17th to July 15th
Venue: Unit 601, Phase 1, Chaiwan Industrial City, 60 Wing Tai Road, Chai Wan, Hong Kong
Contact: platformchina@gmail.com tel +8610 6432 0091
Here an interesting link by Platform China with images of Jia Aili's different projects since 2007.