Jia Aili's residency at University of south florida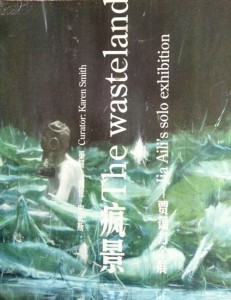 Recent multimillion-dollar auctions of art from China point to a growing respect for Chinese contemporary art and artists.
University of South Florida's Graphicstudio and the Confucius Institute at USF provided a window into this trend with last week's presentation of "China: Making Contact."
Curator and Platform China Contemporary Art Institute Project Manager Austin Powers gave some background on the art scene in Beijing and Beijing-based contemporary artist Jia Aili talked about and showed his work, serving as an outstanding example.
Aili, was in residence for a week in March at Graphicstudio working on new projects.
Powers explained that despite the many efforts to discourage the spread of contemporary Western-influenced art in China, artistic talent was irrepressible and ultimately proved its universality.
As post-revolutionary China worked its way through restructuring and its subsequent Cultural Revolution, artists expressed themselves in a series of movements leading to the emergence of artists like Aili. He said China's Stars Group, one of the first organized avant garde artists' collectives, holds particular significance for him because it shares the same birth year, 1979.
Unlike that group's reception by authorities – being declared illegal – and having to resort to protest marches, Aili's generation of contemporary artists is a point of pride for China. Galleries of contemporary art are gradually sprouting up not only in Beijing but other parts of China.
Aili trained at Lu Xun Academy, one of the most important in China. He's considered one of the top emerging artists of the day. He paints, sculpts and creates large scale installations. Born in northeast China – Dandong , Liaoning Province – near the North Korean and Russian borders, he uses a great deal of his early environment in his signature coloration and imagery.
Aili not only paints on canvas, he likes to paint on all kinds of everyday objects such as soles of shoes, gallery catalogues, even a mattress. At Graphicstudio he was working on etchings, something he has been interested in for some time.
He has never had the chance in China to explore that process,other processes was introduced to him as well, such as lithography and cyanotypes.
He and Powers talked about Aili's penchant for exhibiting his work even as he is working on it and continues adding to his painting for years at a time. Ultimately, he said, his work is a commentary on what it feels like to be an artist in China.
He had his first solo exhibition, "The Wasteland," at Platform China. Slides of several of his works from that series were shown at the Graphicstudio talk. Gas masks, people in hazmat suits, stylized piles of industrial waste and stark landscapes repeat themselves in dramatic and powerful works. Though he said the landfill project behind his first studio did influence him, Aili claims not to be commenting on environmental concerns.
His monumental canvases – some as large as 45 feet in length – have been shown throughout China and are beginning to find an international audience. His work was shown in the United Kingdom and Puerto Rico in 2010.
Source: USF the original article : visit by Chinese Emerging artist
Author: Barbara Melendez