Seeker of Hope: Jia Aili's solo show still on at Singapore Art Museum until 23rd of September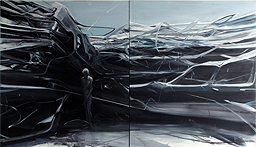 Seeker of Hope is running until the 23rd of September at the Singapore Art Museum (SAM). It showcases Jia Aili's works ranging from monumental oil paintings and installations, to paper works.
You will find images of the exhibition on Platform China's website, the Beijing-based gallery which represents Jia Aili from the very early stage.
Born in 1979, Jia Aili is an accomplished Chinese painter whose works narrate a perennial sense of struggle, of a torturous world in which the speed of change and upheaval of the past is presented in an epic tragedy. Triggered by the external changes to Chinese society in which Jia is experiencing, his works however are of a personal nature, resolving these external influences within oneself. While best known for his monumental canvases in which sorrow and helplessness are presented in elegant almost beautiful environments, theexhibition will show another side to Jia"s artistic practice, such as showcasing delicate paper works as well as installation presentations of his paintings.
The exhibition is organized in collaboration the Swiss Credit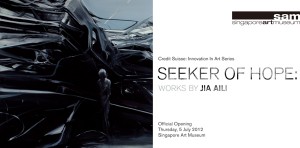 Here a review of Jia Aili's show Seeker of hope
Seeker of Hope: Works by Jia Aili an Article by Marilyn Goh for the Daylyserving
Exhibition date: 6 Jul – 23 Sep 2012
Exhibition venue: Singapore Art Museum
Address: 71 Bras Basah Road Singapore
Opening Hours: Monday to Sunday 10am to 7pm on Friday open util 9pm (free admission on Friday from 6 to 9 pm)
Contact: nhb_sam_programs@nhb.gov.sg
+65 6332 3222
If you are visiting Singapore, here is a link to the 100 best things to do in Singapore.