Ni Youyu's works presented at Galerie Nathalie Obadia in Paris
At the occasion of the exhibition "Revolution in Tradition : China's Post Ink Painting Era" curated by Tiffany Wai-Ying Beres, Galerie Nathalie Obadia is presenting works by Ni Youyu for the first time to the French public.
Born in 1984 in Jiangxi province, Ni Youyu graduated from Shanghai University with a degree in Chinese Painting in 2007. He currently lives and works in Shanghai. He was nominated best Young Artist, 2014 by CCAA (Chinese Contemporary Art Award founded by Uly Sigg) . He participated in the 1st CAFA Future Exhibition in 2012. Ni Youyu's practice incorporates a large range of mediums including installation, sculpture, painting, collage and video and successfully combines the tradition with the present. In his article "On Galaxy" Peter Fischer describes Ni Youyu as an "artist who belongs to a generation of young Chinese artists who are committed to engaging with their own heritage".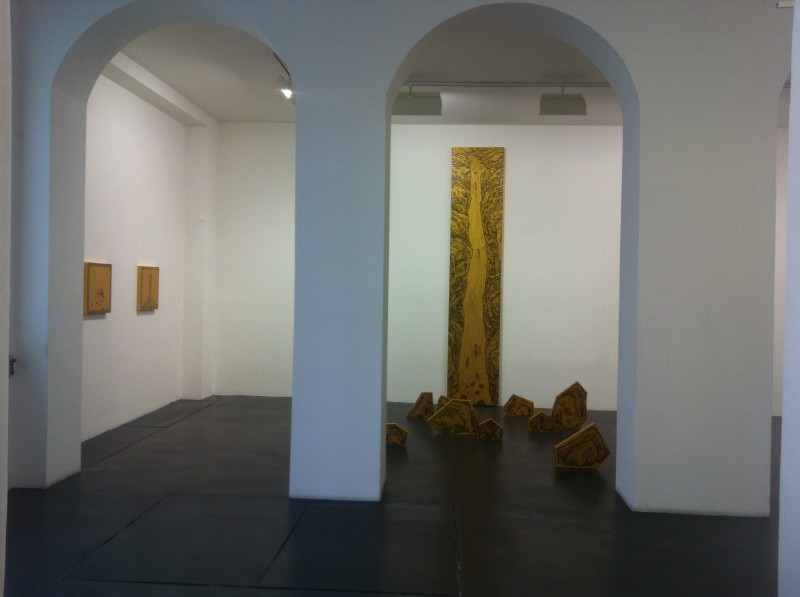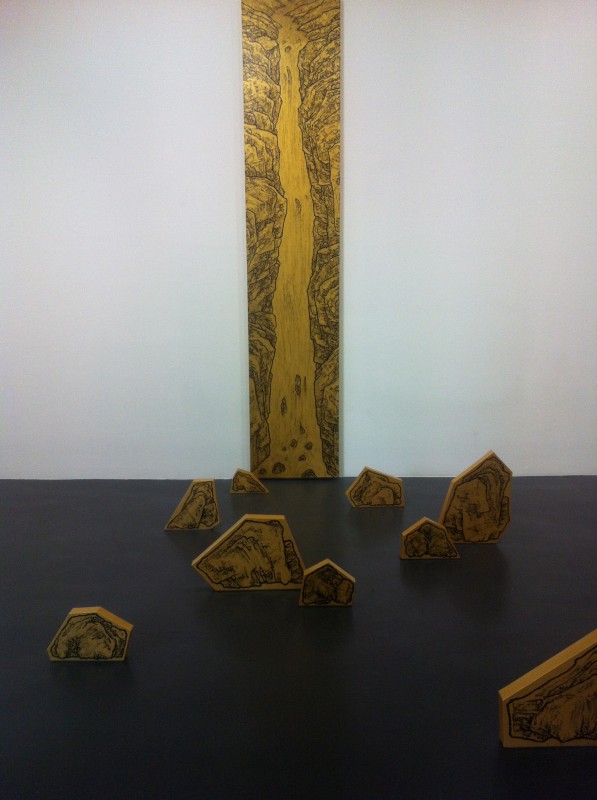 The Giant Waterfall, 2014, acrylic on canvas 350×70 cm
This piece is part of his water wash series, at the end of 2008 Ni Youyu started a new series painting with black acrylic on pure golden canvas. The golden canvas comes from his personal interest of silk paintings from the Song Dynasty. When you look at the piece from a certain distance, the black lines seems to be from Chinese traditional painting style, but when you get a closer look you realized that the lines are blur and fragmented like the wood engraving. In fact before the acrylic paint is completely dry the artist use water to wash it off 80 to 90%. The rich texture is made of a juxtaposition of paint and water. The water becomes the artist brush. Which is quite interesting that the result shows a natural effect which is at the same time intended and unintended. (Excerpts from Self-Introduction by Ni Youyu translated by Ma Zheng)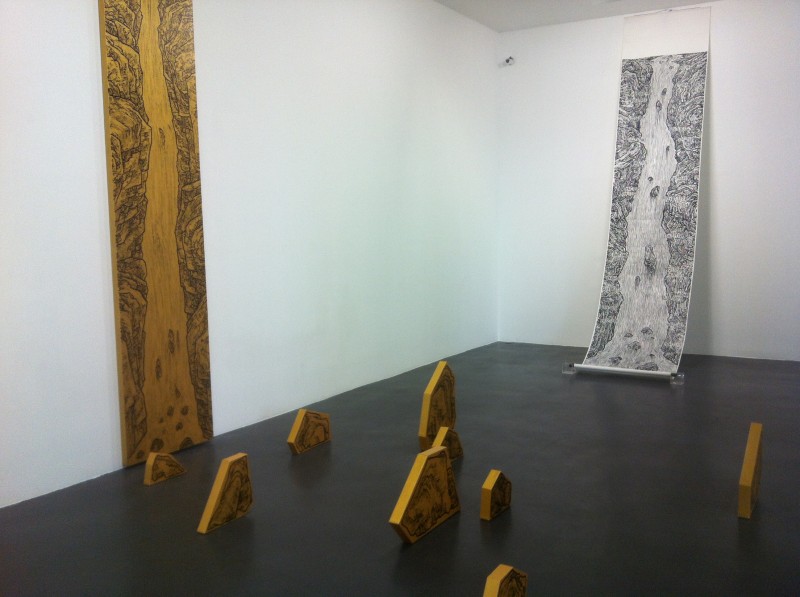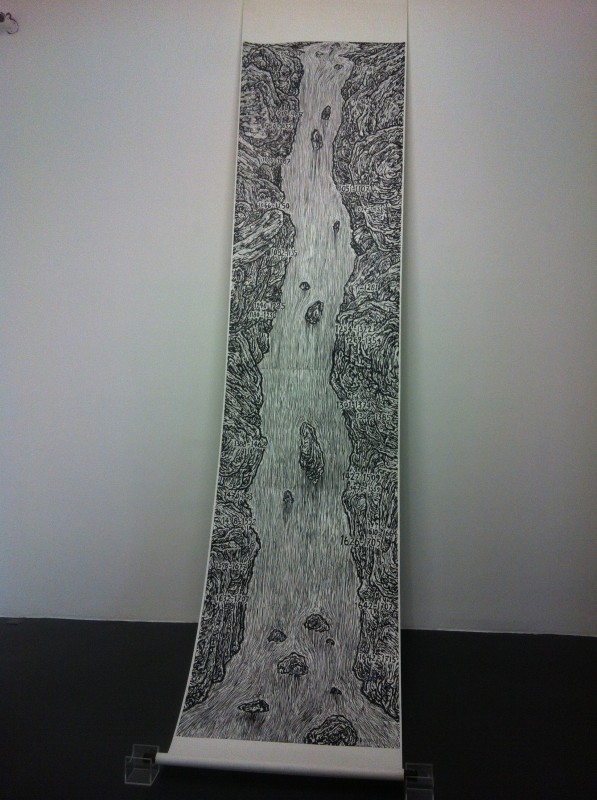 View of History, 2014, woodcut on handmade paper, 450×90 cm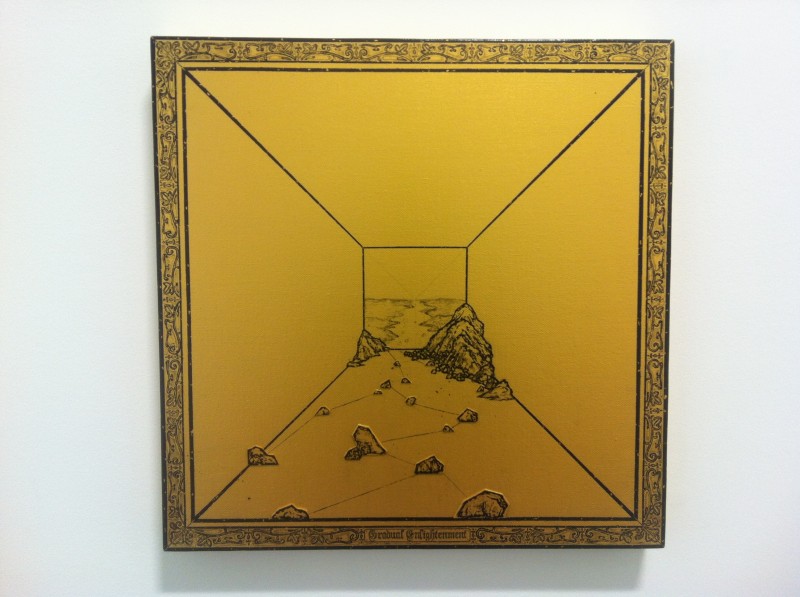 Gradual Enlightenment, 2015, acrylic on canvas, 50x50cm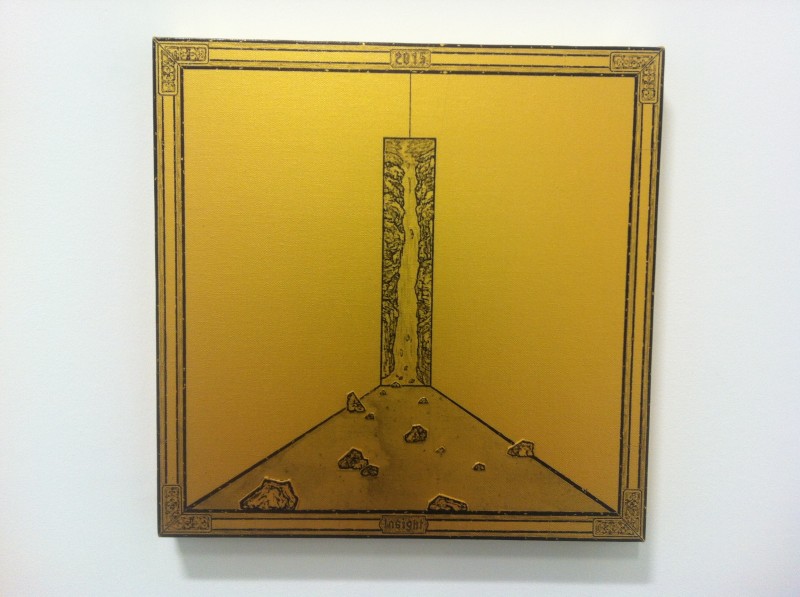 Insight, 2015, Acrylic on Canvas, 50 x 50 cm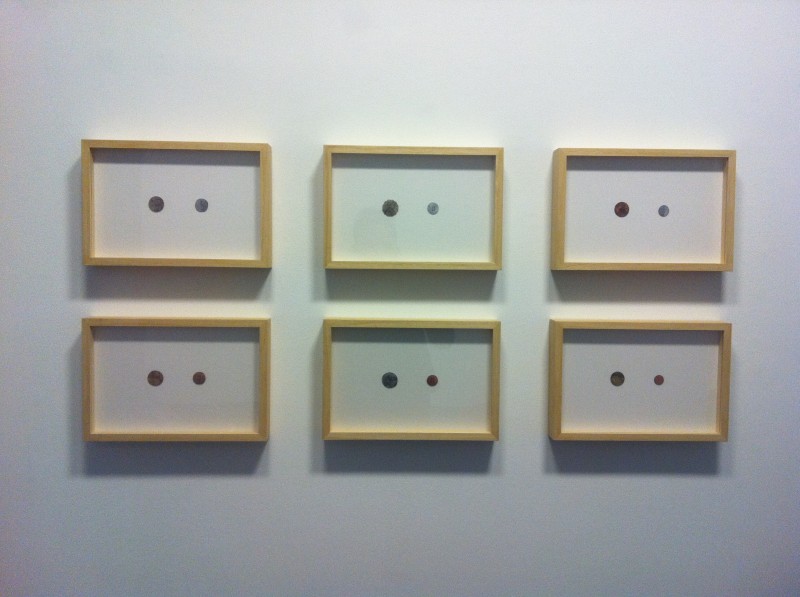 Painted Albums of China (Galaxy Series) #1-2-3-4-5-6, 2014 miniature drawings on flatten coins (23x33cm each)
The artist began his project "Pound Money" in 2008, he pounded coins of different values and countries flat with a hammer and then painted miniature pictures on the coins' surface of only 2 or 3 centimeters. It was a huge contrast between the violence of the act of pounding and the delicate and precise act of painting. After four years of work on this project, the artist painted more than three hundred coins that he displayed for the first time in the form of an ancient star chart which gave the name to the project "The galaxy". (Excerpts from Self-Introduction by Ni Youyu)
The exhibition is on until May 31st.
Galerie Nathalie Obadia address:
3, rue du Cloître Saint-Merri 75004 Paris
18, rue du Bourg-Tibourg 75004 Paris