"Panorama" Gerhard Richter's retrospective at the Centre Pompidou in Paris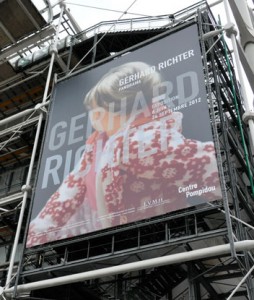 Gerhard Richter is one of the western contemporary artist who had the strongest influence on Chinese contemporary art and continue to have. In 2008 a large retrospective exhibition of the artist,Paintings 1963–2007 was mounted with over 100 paintings at the National Museum of China in Beijing.
Part of his attraction to Chinese artists lies in his East-West German biography: 
"13 years under National Socialism, 16 years under East German Communism. A few months prior to the erection of the Berlin Wall, he and his wife fled with only a suitcase to Düsseldorf in West Germany. 
Rigorous ideology and death have haunted Richter since he was a child, perhaps causing his strong dislike for ideology of any kind and underpinning the attraction that nature, as an indiscriminate force, holds for him." Richter's quote
The exhibition at the Centre Pompidou devoted to Gerhard Richter brings together nearly 160 works and offers a chronological and thematic itinerary of the oeuvre of one of the major figures of contemporary painting. From the beginning of the 1960s to the present day, it shows the brilliant experiments carried out by the painter through a wide variety of pictorial styles. From "photo-paintings" to abstraction, from grisaille and monochrome works to coloured charts, he reinterpreted the genres of history of art: portraits, history paintings and landscapes.
"I do not obey any intention, system or trend; I have no programme, style or pretention. I love uncertainty, infinity and permanent insecurity." Richter's quote
"…I would like to obtain in the end a picture which I had not planned at all… I would like to get to something more interesting than what I can think of myself." Richter's quote
The exhibition is running until the 24th of September.
Information: Centre Pompidou