Philip Tinari Replaces Jérôme Sans as Director of UCCA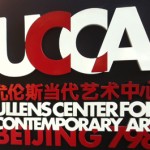 Phil Tinari Takes over from Jérôme Sans at Beijing's Ullens Center, Signaling New Direction article on ARTINFO
American-born, Beijing-based curator and editor Philip Tinari will take the helm as Director of the UCCA (Ullens Center Contemporary Art Beijing) this December. He replaces Jérôme Sans in the position.
Tinari has been active in the Chinese contemporary art arena for nearly ten years. He is the China Representative for Art Basel and is founder and current editor of LEAP magazine.
Tinari's appointment affirms UCCA's commitment to remain in China, despite speculation to the contrary.
His deep knowledge of the Chinese scene indicates that UCCA will return to its original mission to focus on the local. The incoming director has hinted that a new institutional long-range plan will be released in the coming weeks.
To read the entire article see on ARTINFO