Projection of Wang Gongxin's video at Platform China from February 21st to 26th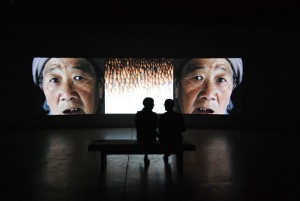 At the occasion of the Chinese artist Wang Gongxin's first U.S. solo show, "It's about Art–It's about China" which is running until March 11th, 2012 in RedLine's exhibition spaces in Denver. Platform China will project Wang Gongxin's videos in the Beijing Gallery from 21st – 26th, Feb.
Contact:
Platform China
East End Art Zone A,
319-1 Caochangdi Village,
Chaoyang District, Beijing
T: +86 10 6432 0091
General Inquiries: info@platformchina.org
Opening hours: Tuesday-Sunday 11:00 – 18:00
For more information please refer to Wang Gongxin's personal website or Platform China.
Wang Gongxin's education background
Born in Beijing, China 1960
Bachelor of Art, Capltal Normal University, China 1982
Visiting Scholar, Suny at Cortland and Albany, NY, U.S.A 1987
Guest Professor at Central Academy of Fine Arts, Beijing, China 2003-2009

Wang Gongxin's latest show
2010 – Out of Box, Boers-li Gallery, Beijing
– Shan Shui 2010:H2O, Beijing Center for the Arts, Beijing
– ShContemporary 2010, Shanghai Exhibition Center, Shanghai, China
– The Constructed Dimension-
2010 Chinese Contemporary Art Invitational Exhibition, National Art Museum
of China,Beijing, China
– Relating – Wang Gongxin Solo Show, Platform China, Beijing
– Jungle – A Close-Up Focus on Chinese Contemporary Art Trends
Platform China, Beijing
2009 – It's not about the neighbors, Arrow Factory, Beijing ,China
2008 – Four Season Group Exhibition, Zhe jiang Academy of Art, Hong Zhou, China
– Group Show, SFMoMA, San Francisco, USA
– Beijing-Athens: Contemporary Art from China, Grace National
– Contemporary Art Center, Grace, Athens
– Where Are We? Tian An Time Art Center, Beijing, China
– Drawn in the Clouds, Kiasma Museum of Contemporary Art, Helsinki, Finland
– Empty Orchestra, J.M. Barnicke Art Gallery, Toronto, Canada
– Christian Dior & Chinese Artists, Ullence Foundation,Beijing, China