The Institute for Provocation (IFP)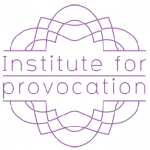 The Institute for Provocation (IFP) is a dramaturgical workspace and curatorial platform, which supports artist residencies with studios available in downtown Beijing (Dongcheng 2nd ring road next to Lama Temple). The residency's focus lies on the thinking process before or even beyond the actual creation of an artwork. IFP proposes differences (in culture, in vocabulary, in paradigms) as actual provocations of the artist's research and thinking process.
IFP (known before under the name of Theatre in Motion/LAB) is based in Beijing and Antwerp Belgium and is notably supported by the Flemish Government, the Netherlands Foundation for Visual Arts, Architecture and design, Arthub Asia…
For more information http://www.iprovoke.org
If you wish to apply please submit your artistic proposal to insitute@iprovoke.org
Workspace in Beijing Dongcheng Districit Heping Xincheng, Heping Dongjie, Building 29, Unit B, 20K, Second Floor.