10 Art Venues You Cannot Miss in Shanghai (Updated version)
If you are traveling to Shanghai, here are some art venues you cannot miss during your stay:
166 Art Space, founded by Andrew Ruff and Ling Ling Zou, is a 100 square meter non-commercial, not for profit exhibition space designed initially to highlight aspects of a collection of Chinese contemporary art that began some 20 years ago.The collection, now comprising more than 100 works, focuses on the careful selection of artists and the acquisition of their work over the progression of their careers. We had the opportunity to take the ground floor of a beautiful 1936 building to host a series of rotating exhibitions from the collection, and to serve as a platform for modest pop-up exhibitions and curatorial projects going forward.
Address: No.166 Zhenning Road 405 Lane
Email: info@166artspace.com
BANK is the studio of MABSOCIETY. It was founded in July 2013 and is housed in the former Bank Union Building (est 1929) located near Shanghai's historic Bund area. BANK functions as the offices and studio of MABSOCIETY and is dedicated to an exhibition program that engages international issues of contemporary art and culture. Founder and director, Mathieu Borysevicz is a curator, critic and artist who has been active in the contemporary arts of China since the mid-1990s.
Address: Building 2, Lane 298 Anfu Lu, Xuhui District, Shanghai 200031, China
Tel: +86 21 63013622
Email: info@mabsociety.com
BANK and CAPSULE are both located on Anfu road and very close to each other
Capsule Shanghai opened its doors in October 2016. Located in the historic Former French Concession, the gallery is set in a stunning 1930's garden house, away from the hustle and bustle, a haven in which to experience and enjoy art. Committed to exhibiting the best of international and China's contemporary art, by both established and emerging artists, Capsule proposes a less conventional gallery formula, acting as both gallery and art laboratory.
Address: 1st Floor, Building 16, Anfu Lu 275 Nong, Xuhui District
Phone: +86 021 64170700
Email: info@capsuleshanghai.com
Don Gallery is a contemporary art gallery in Shanghai showcasing both emerging and established Chinese artists. Since being founded in 2007, Don Gallery has championed the careers of artists who are contributing to the way Chinese contemporary art was presented. Don Gallery now at the art hub of West Bund embracing a more expansive field. It endeavours to take an initiative on curatorial innovation and accommodate a promising configuration of international artists, yet continues to support an important generation of Chinese artists in collaboration with various institutions.
Address: Unit 302, 2879 Lonteng Avenue, Xuhui district
Phone:+86 21 6473 1533
Email: dongallery.sh@gmail.com
Established in 2009, MadeIn Company, is a contemporary art creation company, focused on the production of creativity and devoted to the research of contemporary culture's infinite possibilities. In 2014, MadeIn Company founded MadeIn Gallery, a gallery dedicated to the promotion of talented international artists, holding high quality art events and exhibitions, with an accent on contemporary culture development and communication
Address: No.106, 2879 Longteng Avenue, Xuhui district
Phone:+86 21 60709563
Email: info@madeingallery.com
One of the largest of its kind in China, M97 was established in 2006 in Shanghai. Consistently exhibiting contemporary and fine art photography that spans all genres of the medium, M97 represents an eclectic range of important emerging and established artists working with photography.
Address: No. 363 Changping Road, Bldg. 4, 1st & 2nd Floor, Shanghai, China 200041
Phone: (+8621) 6266 1597
Email: info@m97gallery.com
Established on Oct. 1st, 2012, the Power Station of Art (PSA) is the first state-run museum dedicated to contemporary art in mainland China. It is also home to the Shanghai Biennale. Standing tall by Shanghai's mother river, the Huangpu River, PSA now occupies an area of 42-thousand square meters. Renovated from the former Nanshi Power Plant, PSA was once the Pavilion of Future during the 2010 Shanghai World Expo.
Address: 200 Huayuangang Road, Huangpu District
Telephone: 021-31108550
E-mail: info@powerstationofart.com
Since its opening in 2010, Rockbund Art Museum has achieved high renown for its exhibitions of acclaimed Chinese and international artists. The deep involvement of the Rockbund Art Museum aims to elevate contemporary art and energize the Chinese and international art scenes.
The museum building was completed in 1932, originally designed by British architect George L. Wilson. While its exquisite Art Deco exterior combines both western and Chinese elements. In 2007, world-renowned British architect David Chipperfield was commissioned to renovate the Museum interior. Keenly aware of the building's cultural heritage, the architect reshaped the interior with simplicity, grace, and functionality, infusing the historical architecture with the spirit and character of modern art.
Address: 20 Huqiu Road, Huangpu District
Phone:+86 21-3310 9985
Email: info@rockbundartmuseum.org
SCOP SHANGHAI CENTER OF PHOTOGRAPHY
Shanghai Center of Photography (SCôP) was founded in May 2015 by Mr Liu Heung Shing. SCôP is a non-profit organization: the first such accredited art institution dedicated to photography in China, and Shanghai's premiere museum for the photographic medium. SCôP showcases international and Chinese photography in all its diverse applications. Here you will find the best of journalism, documentary, social history, fashion and art photography from around the world. In tandem with its curated exhibitions, SCôP offers a program of educational programs including workshops, lectures, and publications.
Address: 2555-1 Long Teng Avenue, Xuhui District,
Phone: +86 (0)21 64289516
Email: info@scop-sh.com
Founded in 1996, ShanghART Gallery is one of the first contemporary art galleries established in China now maintaining spaces in Shanghai, Beijing and Singapore. For the past twenty years, ShanghART has kept devoting to the development of contemporary art in China and also kept close and long-term cooperation with more than 60 artists.
Addresses: West Bund, Bldg.10, 2555 Longteng Avenue, Xuhui District
T: +86 21 6359 3923 +86 21 5424 9033
Bldg 16, 50 Moganshan Rd., Putuo District
T: +86 189 3061 303
Email: info@shanghartgallery.com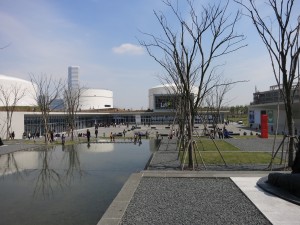 TANK SHANGHAI, founded by renowned contemporary art collector Qiao Zhibing, is a multifunctional cultural hub that combines exhibition venue with parkland, plaza, bookstore, education center and restaurant. The project spans over 60,000 square meters.
For more art venues in Shanghai or other cities in China I invite you to check the list of China's art venues
Published in :
Art Venues
,
Visual art
Tags:
2018
,
art venue
,
BANK
,
Capsule Shanghai
,
contemporary art
,
Don Gallery
,
M97 Gallery
,
MadeIn Gallery
,
museum
,
Power Station of Art
,
Rockbund Art Museum
,
SCOP
,
Shanghai
,
Shanghart
,
TANK