Kan Xuan exhibition's date extended until November 15th at UCCA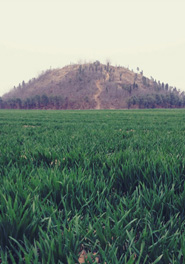 The exhibition is running until November 15th, if you didn't take the time to see it, you still have few days to do so. This is definitely the largest and most significant project by Kan Xuan to date and can't be missed.
Millet Mound is at once a meditation on China's imperial past and a broad survey of its present, in the form of 164 stop-action videos, each of which unfolds before one of China's known extant imperial tombs.
This  major new project "MILLET MOUNDS" is the result of over 100 days and 28,000 kilometers of continuous, on-the-road research and shooting with a crew of four in early 2012. Kan Xuan's lens claims, catalogues and personalizes a centureis-long lineage of history and power. The exhibition takes its title from the name used by villagers in Northern China to refer to tomb mounds that resemble piles of their staple crop at harvest time.
Kan Xuan (b.1972) winner of the De Prix de Rome Prize in Holland in 2005, she graduated from Central Academy of fine art and studied a mater degree at the Rijksakademie in Amsterdam. She works with video and video installation, she has exhibited in various international exhibition including them Venice Biennale (2007), Istambul Biennale (2007), Alors, la Chine? Centre Pompidou (2003), Vancouver International Centre for Contemporary Asian Art with Wang Jianwei (2012). She is living and working in Beijing and Amsterdam.
Venue:  UCCA