Location one in NYC presents "Our Homeland! Gone just like that" by Na Yingyu
Location One presents "Our Homeland! Gone just like that" a video installation work by Na Yingyu. The work chronicles the encounter of the video artist Na Yingyu with the Naxi people in the Naxi Autonomous Prefecture of Lijiang, Yunnan, China in 2006 and 2007.
The exhibition is curated by Jay Brown the director of the Lijiang Studio.
The show will be running from March 7 to April 21, 2012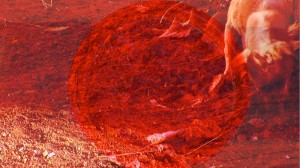 The video installation, consists of 59 video "chapters", Na Yingyu organizes his material into chapters which lie, as he puts it, "on a möbius strip" so they can be seen in any order, or simultaneously.
Entangled in these chapters are the ongoing politics of minority ethnicity and cultural representation in China, the disappearance of traditional knowledge (
the old priest He Xun simply says, "the book has been lost"), the stable rhythms of farm work, the loss of a father, the dangers
of pyramid marketing, the awkwardness of American high school students.
Our Homeland! Gone Just Like That, uses this particular structure, the reveries of sound and image, and certain narratives to explore the Lijiang area and its particular crisis in the transmission of knowledge.
The stars behind the Jiguan hill went down,
The water of Lashi Lake dried up,
The peak of the Jade Dragon Snow Mountain collapsed,
The blue sky grayed,
Our homeland!
Gone just like that.
from the Nan Xi Gu Qi Melody, a Naxi folk song
Biography:
Na Yingyu is a Chinese video artist, born in 1973 in Yichun, Heilongjiang, China, he lives and works in Beijing. Na Yingyu has exhibited extensively in China, Brazil and Israel.
More information Location One
More post about Na Yingyu
Contact: Location One
26 Greene Street NYC
Tel 212 334 33 47