Newly launched art publication by Wu Hung – a Story of Ruins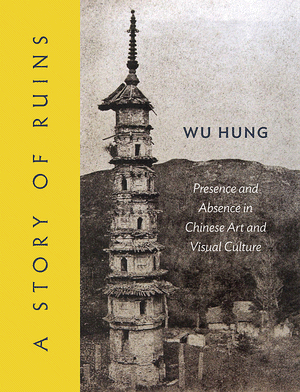 Newly launched A Story of Ruins by Wu Hung is a Princeton University press 's publication.
This richly illustrated book examines the changing significance of ruins as vehicles for cultural memory in Chinese art and visual culture from ancient times to the present. Leading scholar of Chinese art Wu Hung shows how the story of ruins in China is different from but connected to "ruin culture" in the West. He investigates indigenous Chinese concepts of ruins and their visual manifestations, as well as the complex historical interactions between China and the West since the eighteenth century.
Analyzing a broad variety of traditional and contemporary visual materials, including painting, architecture, photography, prints, and cinema, Wu also embraces a wide variety of subjects–from indigenous methods of recording damage and decay in ancient China, to realistic images of architectural ruins in the nineteenth and twentieth centuries, to the strong interest in urban ruins in contemporary China, as shown in the many artworks that depict demolished houses and decaying industrial sites. The result is an original interpretation of the development of Chinese art, as well as a unique contribution to global art history.
Wu Hung specializes in early Chinese art, from the earliest years to the Cultural Revolution. His special research interests include relationships between visual forms (architecture, bronze vessels, pictorial carvings and murals, etc.) and ritual, social memory and political discourses. He is the author of  many books about Chinese contemporary art : Transience: Chinese Experimental Art at the End of the Twentieth Century (University Of Chicago Press, 1999), Exhibiting experimental art in China (2010), Between Past and Future: New photography and video from China…
Wu Hung is Director of Center for the Art of East Asia , Consulting Curator for Smart Museum and  Professor in Chinese Art History, Department of Art History and Department of East Asian Languages and Civilizations, at University of Chicago.
Hung grew up in Beijing and studied at the Central Academy of Fine Arts in Beijing. From 1973 to 1978 he served on the research staff at the Palace Museum, located inside Beijing's Forbidden City. He came to Chicago in 1994.