Opening of Paris-Beijing Gallery in Brussels- A history of Chinese contemporary photography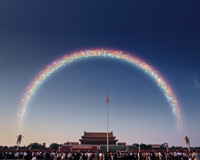 In Autumn 2012, after Beijing and Paris, the Paris-Beijing Gallery opens its new branch in Brussels in the Hôtel Winssinger by Victor Horta. This inauguration gives the occasion to the gallery to present an inspirational retrospective of the prospection work it has accomplished during the past six years in China. The exhibition A History of Chinese Contemporary Photography, consisting of approximatively ninety photographs by thirty artists, provides an unprecedented overview of the exciting richness, originality and vitality of chinese's photographic scene.
A catalogue of the exhibition is available at the gallery.
Artists:
Ai Weiwei | Cang Xin | Chen Jiagang | Gao Brothers | Hei Yue | Jiang Pengyi | Jiang Zhi | Li Wei | Liu Bolin | Liu Ren | Liu Zheng | Maleonn | Miao Xiaochun | Mo Yi | Qiu Zhijie | RongRong & inri | Shao Yinong & Mu Chen | Sheng Qi | Wang Ningde | Wang Qingsong | Weng Fen | Xu Yong | Yang Yongliang | Yang Yi | Zhang Dali | Zhang Huan | Zhu Ming
Address: Hotel Winssinger, 66, rue de l'Hôtel des Monnaies, 1060 Brussels, Belgium
Contact: Tel: +32 (0)4 94 31 87 71 | brussels@galerieparisbeijing.com
More information ParisbeijingGallery