September Rendez vous in Shanghai – exhibitions' openings during Shcontemporary
Every year in September, Shanghai is the center of Chinese art scene for a week. In fact a lot of exhibitions will open during Shcontemporary in the different art districts, here I propose a quick glimpse of what will be on and should not be missed: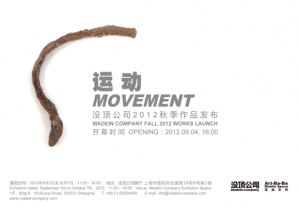 On September 4th in Taopu art district few spaces will launch new shows as for example MadeIn Company which will present "Movement-MadeIn Cie Fall 2012 Works Launch". The exhibition will display a new series of works of the company including installation, paintings, performances and other media. The exhibition will opne at 4pm and will be running until October 7th.
MadeIn Company was established in 2009 in Shanghai by Xu Zhen, it is a contemporary art creation company, focused on the production of creativity, and devoted to the research of contemporary culture's infinite possibilities.
Venue: MadeIn Company Exhibition Space 1/F, Bldg 8, 18 Wuwei Road, 200331 Shanghai
More information on Madeincompany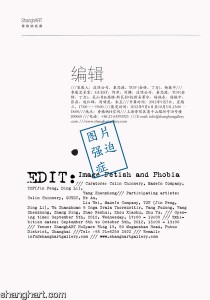 On September 5th, Moganshan Road 50's galleries are opening new exhibitions, among them "Edit: Image Fetish and Phobia" at ShangART H-Space until October 5th
The exhibition is curated by MadeIn, Yang Fudong ,Yang Zhenzhong, Zhang Ding who invited 14 artists working in other media than photography to search for new ideas in photo based imagery. More information on Shanghart
On September 6th, ShContemporary's preview from 5pm to 7pm opening from 7pm to 10pm, open to public opening on the 7th until the 9th from 11am to 6pm (except Sunday until 5pm).
The 5th edition has been organized under the direction of Massimo Torrigiani who is the Co-founder and director of Boiler Corporation and publisher of Fantom – Photographic Quarterly. He said in an interview with Leap Magazine about curating the 5th Shcontemporary "My strategy is to build a strong backbone and work with the stakeholders—to have the good Chinese galleries, both emerging and established, and the Asian galleries, be there first." Original article on Leap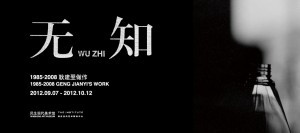 On September 7th 5pm, Geng Jianyi's solo exhibition opening at Minsheng Museum "Wuzhi: 1985-2008"
Running from September 7 to October 12, the exhibition "Wu Zhi" will feature works from 1985 to 2008. This is the first retrospective of the artist hold in China. Geng Jianyi born in 1962 in Henan province, lives and works in Hangzhou. Despite his use of various media, he never ceases to explore the question  of the self and demonstrates a strong interest in the self-awarness. The show will include the artist's paintings of early period, works on photo paper from the late 1990s to 2000s, video works, installations and archives.
Address: bldg F, NO.570 West Huaihai Road (See map)
Tel: 021-6282 8729
More info on Mingsheng Museum on Shanghart