The work of a French designer : Benjamin Graindorge
Benjamin Graindorge is a young French designer who graduated from ENSCI in 2006. His final year project entitled le Paysage domestique received support from the VIA. He was selected two years in a row for the Design Parade festival and won the Cinna and Audi Talents Awards in the design category. After a stint as artist in residence at the villa Kujoyama in Kyoto he came back to France to work with François Bauchet on the scenography for the Biennale Internationale du Design in Saint-Etienne in 2010. This year, after taking part in the Art Paris art fair with Ymer&Malta, he was hired by Audi to do the scenography for Designers Days. 2011, Benjamin presented four pieces at the designParade festival, including his «morningMist» lamp. Last year, Benjamin Graindorge received the 2012 Young designer EDIDA awards in Milan.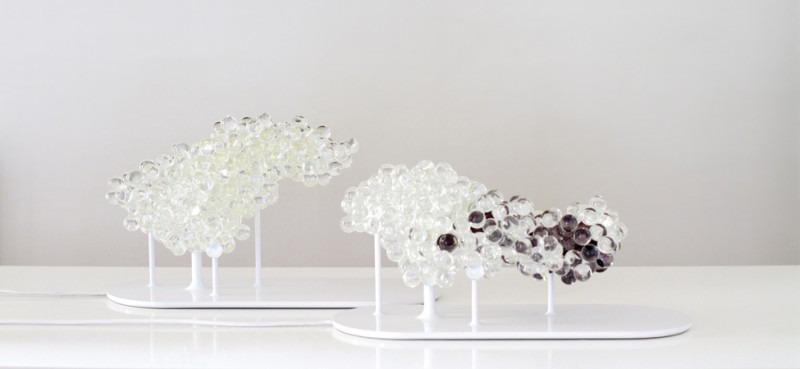 Image credits: ©Bernard Maltaverne Courtesy Ymer&Malta
« I love this lamp because it seems to be unfinished, we could easily imagine being able to add a few glass balls to watch it grow until it takes over the entire room with the light, from one source, going on forever.I wanted a lamp that seems to be come from the mind of a man who has just woken up, that moment where the real and the unreal come together and adapt to one another. » Benjamin Graindorge
Materials: ultra white glass balls, brilliant white lacquered steel base.
Colour: this lamp is available in 12 « morning mist » colours
Dimensions: H. 30 • L. 50 • l. 20 cm
Editions: Limited edition of 8 pieces signed and numbered
"In Paris, at designer Benjamin Graindorge's solo show, entitled Morning Mist, each piece was as spookily celestial as the next." Financial Time January 2012
"Benjamin Graindorge expresses his talent the old-fashioned way, by drawing by hand. He must be doing some-thing right: at just 30 he was asked to show his work at the autumn at the Paris Museum of Decorative Arts2010 "Drawing Design" exhibition. Curator Constance Rubini ranks him with Pierre Charpin and the Bouroullec brothers in the category of those who consider "drawing an end in itself".[…]"Drawing isn't just representation, it's already creation,"vhe says. "To show an idea, whose form is nebulous, you must try to clarify it and that means drawing"." La gazette Drouot November 2011