Yesterday Shop – Chen Wei's forthcoming exhibition in Munich
Yesterday Shop, is Chen Wei next solo exhibition at Galerie Rüdiger Schöttle in Munich. The show will open on February 5th.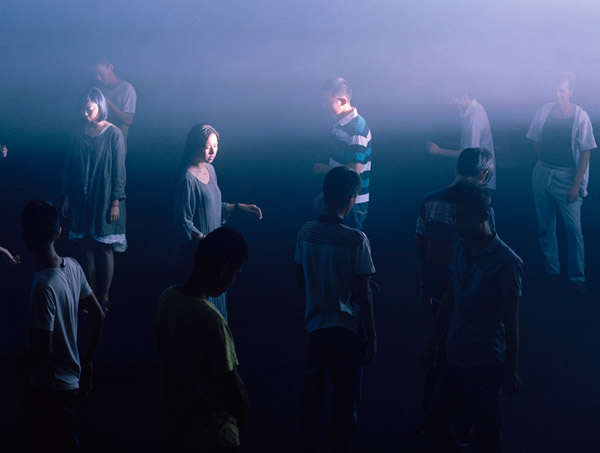 Chen Wei, In The Waves #6, 2013, Archival Inkjet Print (detail)
Photo© Chen Wei, courtesy Galerie Rüdiger Schöttle & Chen Wei
Among the works on view,  "In the Waves #6," is the only photo with protagonists who inhabit the often deserted backdrops of Chen Wei's photographies. In an interview with The Guardian the artist commented on this work : "In China, nightclubs are the only places where large numbers of people are allowed to get together. Gatherings of people all doing the same thing would never be permitted anywhere else – certainly not on the street. It would make the government nervous. This was taken in Beijing, where I live, last year. It's about dreams and reality: people in China go out clubbing to chase their dreams, but they can't escape from what's happening outside …" (The Guardian, April 30, 2014, interview by Karin Andreasson).
Chen Wei was born in 1980 in the Zhejiang Province in China. He lives and works in Beijing.  His work has been exhibited in international museums : The Stavanger Art Museum Norway, The San Jose Museum of Art in San Jose California ; The Katonah Museum of Art in New York; at the Australia China Art Foundation in Sidney ; the Tampa Museum of Art, Tampa, Florida and at the Museum of Fine Arts, St. Petersburg in Florida. His works are represented in numerous international collections.
This year from March 17th, his work will be on view in a solo exhibition at the K11 Art Space in Shanghai and in May in a group exhibition at the Museum Folkwang in Essen, Germany.
Yesterday Shop
Opening: Thursday, Feb 05, 2015, 7 – 9 pm
The exhibition is running until April 11, 2015
Venue: Galerie Rüdiger Schöttle Munich Germany
Featured image: Chen Wei Dance Hall 150×187,5 cm E.6 (detail) Photo © Chen Wei, courtesy Leo Xu Gallery & Chen Wei