Yuan Yuan's current exhibition at Shanghart Gallery in Shanghai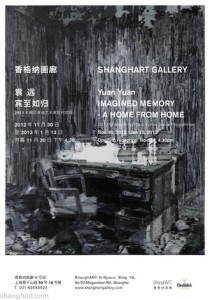 Graduated from China Academy of Art, Yuan Yuan 袁远 (b. 1973) lives and works in Hangzhou. After two shows at xiaoping gallery in Shanghai in 2008 and 2009, which I believe made him known, his work has been displayed during Nanjing Biennale in 2010 and at the occasion of Armory Show in New York.
Since then, Yuan Yuan's work has been presented by worldwide known galleries. His paintings has been showed for the first time in Europe with a solo show "Steam rooms" at JGM Gallery in Paris. This year Yuan Yuan had a show at Malingue Gallery in Hong Kong and is currently having a solo show "Imagine Memory – A Home From Home", at Shanghart Gallery in Shanghai which is running until next January.
Yuan Yuan's distinctive realist works focuses on architectural interiors filled with a very special atmosphere.  He is revisiting the classical techniques with modern sensibilities.
Exhibition date: until the 13th of January
Venue: ShanghART H-space,  Moganshan Rd., Shanghai
Contact:  021-63593923  www.shanghartgallery.com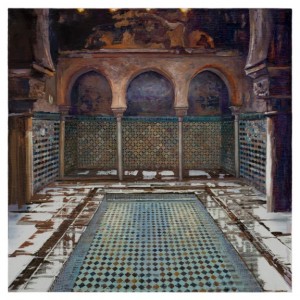 cold pool-oil on canvas 125x125cm