Agnes Varda's unique retrospective in Beijing opening on March 10th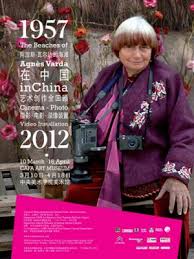 The exhibition "The Beaches of Varda" a unique retrospective gathering movies, photos and video installations.  Among them , "The Chinese Door", an installation created especially for the occasion will display the pictures she has taken during her trip to China in 1957 which have never been shown to the public.  The exhibition will open at the Art Museum of the Central Academy of Fine Arts (CAFA) at 4:00pm on March 10th  and last until April 18th.
The exhibition will travel to Wuhan and Shanghai in the next two months.
Usually connected to the French New Wave, Agnès Varda's work remains particular to her own unique perspective on the world while the themes and issues in her films focus on eroticism and age, death and time, the collective unconscious, and the presentation of social taboos.
Agnès Varda (born 30 May 1928) is a French film director and professor at the European Graduate School. Her movies, photographs, and art installations focus on documentary realism, feminist issues, and social commentary — with a distinct experimental style.
For more information on the exhibition please visit  CAFA & Timeout
A serie of films' screening are taking place at UCCA:
March 10   16:30    Cléo de 5 à 7 (Cleo from 5 to 7)
March 10   19:00    Varda's short films      *Agnès Varda will present for an introduction of this screening
March 11   16:00    Les Plages  d'Agnès (The Beaches of Agnès)    *Agnès Varda, Jean-Michel-Frodon, and Zhang Xianmin will present for a talk and Q&A after screening.
For the films' synopses please check on UCCA website.
Opening 4:00pm on March 10th, 2012
Exhibition time: March 10th to April 18th.
Admission fees: 15 RMB
Contact: CAFA Museum, 8 Huajiadi Nanjie, Chaoyang District, Beijing
北京 朝阳区 花家地南街8号 中央美术学院美术馆
Tel: 010 6477 1575