Jia Aili's ten-year survey at the Centro de Arte Contemporaneo in Malaga
Malaga's Centre of Contemporary Art is exhibiting the work of Jia Aili, currently one of the most outstanding emerging Chinese artists. With almost thirty paintings, the exhibition covers ten years of the artist's creations. Jia Aili's work reflects the dramatic changes in contemporary Chinese society. The artist juxtaposes contemporary features with a traditional figurative style. His abstract, fragmented landscapes – often interrupted by objects that seem to drift – are in fact a clear reflection on himself rather than on present-day society. His works, inundated with apocalyptic landscapes and a palette of blacks, greys and blues, provoke a deep feeling of awe and evoke a profuse admiration for the sublime. People drowned by loneliness and lost between different technological advances will invite the viewer to reflect on the role of the human being on the planet.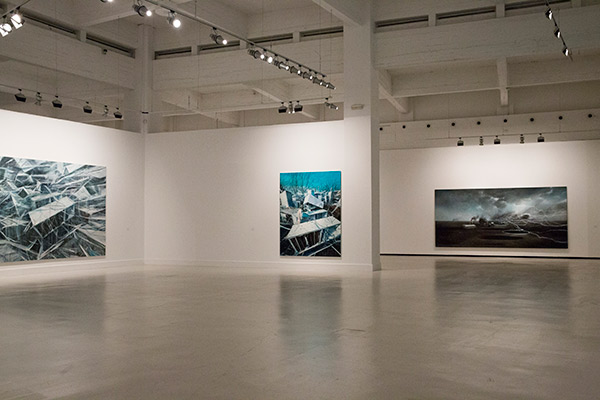 Jia Aili was born in Dandong, China in 1979 and lives and works in Beijing. In 2004, he graduated from the Lu Xun Academy of Fine Arts. Recent solo institutional exhibitions include: "Jia Aili," Teatrino di Palazzo Grassi, Venice, Italy (2015); "Seeker of Hope," Singapore Art Museum (SAM)(2012); "Good Morning, World!" Xiangning Art Museum OCT Contemporary Art Terminal, Shenzhen, China (2010); "Make Believe . . ." INIVA (Institute of International Visual Arts), London, UK (2010); "The Wasteland," Platform China Contemporary Art Institute, Beijing, China (2007). He participated in the collateral events of the 54th Biennale di Venezia in 2011.