About Zhang Ding's "Devouring Time"
In the exhibition ICON at galerie Krinzinger, 19 international artists have chosen their personal icon – an artist, who impressed them in the moment the most. Zhang Ding has chosen Fluxus, therefore his work "Devouring Time- Dinnerware" is exhibited along a very important work related to the Fluxus movement.

The work "Devouring Time – Dinnerware" is connected to Zhang Ding's series "Devouring Time" that he presented for the first time in 2016 at Rockbund Art Museum in Shanghai. During the project, the space of RAM was transformed into a unique social system and a stage for collective behaviors. Zhang Ding  invited the audience to enjoy lunch in this specific space, where the food and drinks were fully conceived and supervised by the artist personally. In addition to that, the project was  joined by one of Shanghai's top chefs ,to work closely with the artist and provide unusually exquisite and enjoyable dining experience for the guests. All participants were endued with specific labels, identities and symbols, through highly regulated and ceremonial eating process, which also allows them to investigate the topics such as realities of the society, standard of values, regulative infrastructures and etc.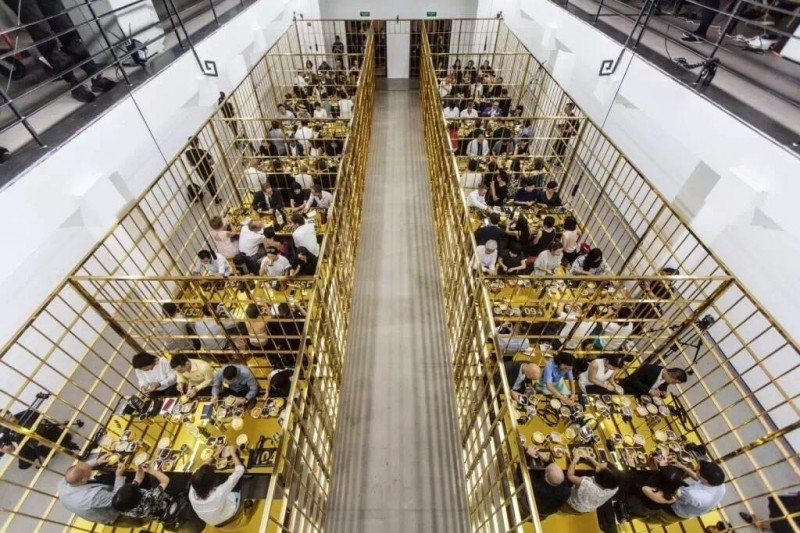 Picture of the project "Devouring Time" at RAM in 2016
Photos credits: RAM & Zhang Ding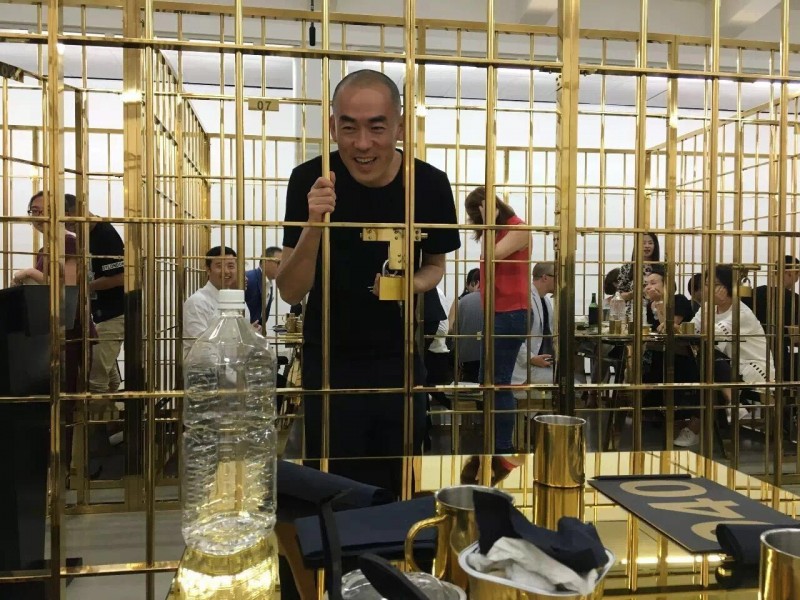 The artist Zhang Ding looking at the audience having lunch in his set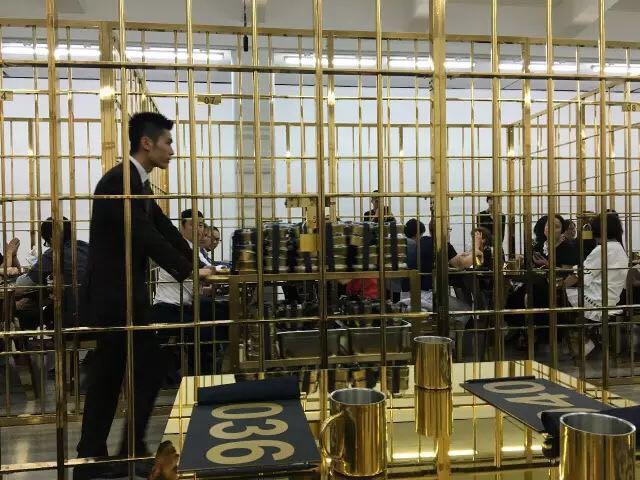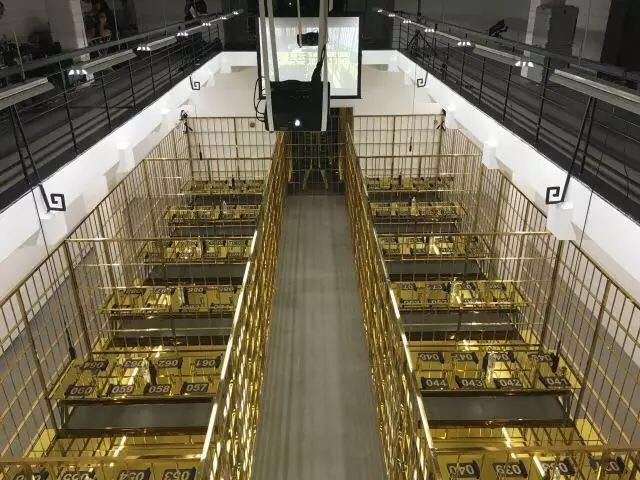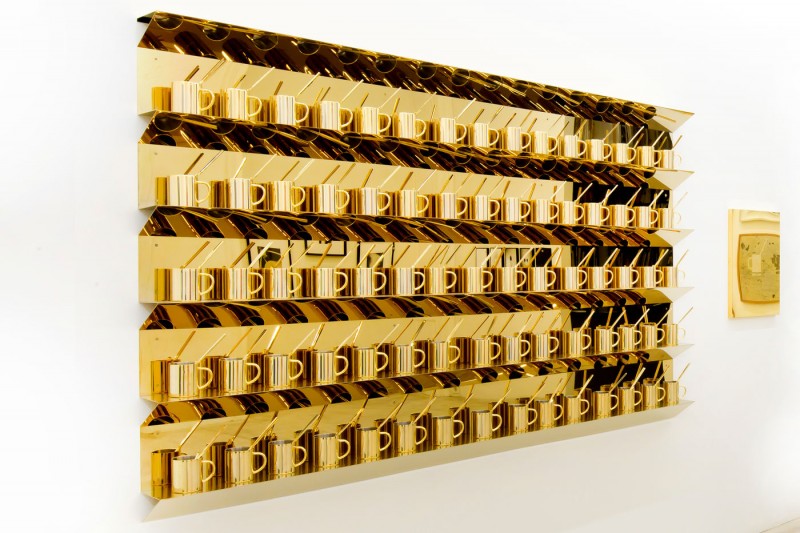 Devouring Time – Dinnerware-F, 2017
Stainless steel cup plated 24k gold, stainless steel spoon plated 24k gold, copper chopsticks plated 24k gold, tigold stainless steel plate, cardboard boxes, 132,6 x 240 x 15 cm, Ed.2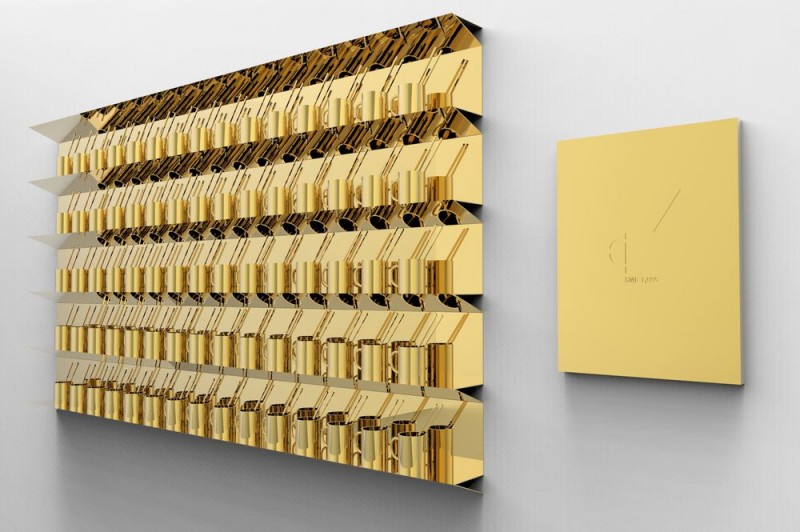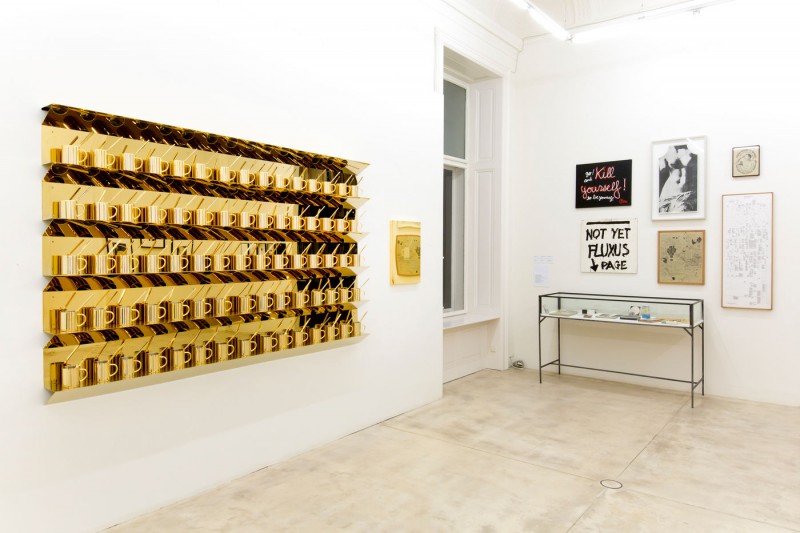 "Devouring Time – Dinnerware-F" exhibited along side a work related to Fluxus movement during the exhibition ICON at Galerie Krinzinger. Photos credits: Galerie Krinzinger & Zhang Ding