Zhang Yunyao's first solo show in Europe at Galerie Marguo Paris
Zhang Yunyao Floating II, 2020, Pastel on Felt, 217 x 200,5 cm Image:©Zhang Yunyao Photo Mike Derez
Zhang Yunyao's first solo exhibition in Europe will be presented by Galerie Marguo in Paris from October 19th.
I had the chance to meet Zhang Yunyao 6 years ago in Shanghai and since I have been following with great interest his work. I was very happy to hear from him few months ago that he will have his first solo show in Paris. The exhibition that is opening on Monday 19th, will feature his newest works on felt, including some which have been made during his stay in France.
"The core of Zhang's artistic practice is fully realized in the centerpiece of the exhibition, Floating II, a striking image of Medusa's bust inspired by Italian sculptor Gian Lorenzo Bernini's Baroque rendition of the eponymous character from the classical myth. Layered in rich burgundy and magenta, the Medusa head seems to be leaping out of a brightly hued purplish-blue background, producing an intoxicating visual blurring the lines between two-dimensional and three-dimensional, the static and the moving."
From October 19th to December 19th, 2020
Address: Galerie Marguo
4 Rue des Minimes, 75003 Paris
At the same time as his exhibition at Galerie Marguo, Zhang Yunyao will have his newest drawings on view at Asia Now Art Fair in a show curated by Hervé Mikaeloff called "Zhang Yunyao : Drawing room".
The artist will attend both shows' opening and will participate in a conversation with Amin Jaffer, Curator, moderated by Hervé Mikaeloff, Independent Art Curator on October 23rd at Asia Now.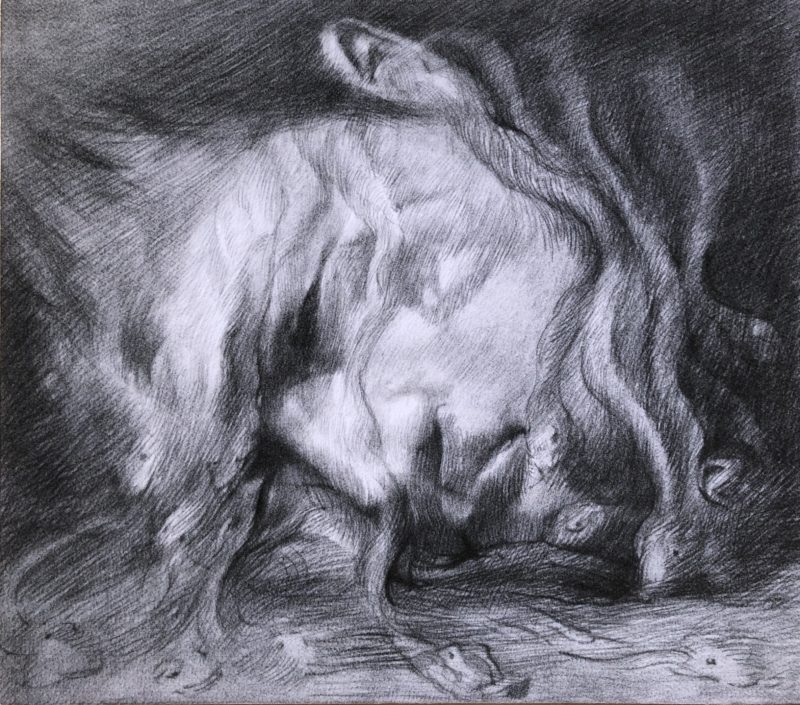 Zhang Yunyao, Portrait, 2020, Graphite on felt, 62 x 70 cm. Image: ©Zhang Yunyao
Zhang Yunyao: Drawing Room
From October 20th to October 24th.
Asia Now Art Fair
9 Avenue Hoche, 75008 Paris